Sibylle Breitbach
Founder of WASTED Management – Berlin
"I've always been fascinated by meeting new and interesting people, cultures and places," says Sibylle Breitbach about herself. In the past the likeable Berliner-by-choice has proven that she knows very well how to make the best of her natural curiosity and at the same time support other people, without any pressure but in an on-going organic process. Her curiosity also led her to a stint working at Germany's Ministry of Justice but then moving on to Cologne's Chelsea Hotel in the early nineties, which was soon loved by the creative circle and music scenes. Here Sibylle met German actress and then VIVA moderator Heike Makatsch with whom she would pass into a new chapter of her life: in 1995 the intense working relationship between Sibylle Breitbach and Heike Makatsch led to the foundation of WASTED Management, an artist management agency with a comprehensive service, which developed over a period of time; the actress being Sibylle's first client.
Since then WASTED Management has expanded, but those who presume that time and success has changed the intimate approach of Sibylle's work will be disabused: anyone who thinks that her agency's emphasis on a close cooperation between client and agent are nothing but empty words, will immediately change their minds as soon as they get to know Sibylle. She proves that professionalism and humanity, along with a strong commitment to and interest in your environment can go together very well. No wonder she immediately had a positive feeling about IWISHUSUN from the first time we met. That's why we are very glad to introduce you to Sibylle Breitbach as our friend and supporter who appreciates our cause. A very warm welcome!
WASTED MANAGEMENT represents the actresses Heike Makatsch, Sibel Kekilli, Alexandra Neldel, the TV presenter/author Tine Wittler, the directors Feo Aladag and Miriam Dehne and the photographer Roman Walczyna–public figures whose works are mainly or at least partly characterised by visuality.
But what is more important to YOU, the sense of sight or taste? 

Definitely sight! Sight allows you to be surprised by beauty in a way no other sense does.
You founded WASTED Management in 1995–a decision that was closely linked and influenced by the intense working relationship with your first client, German actress Heike Makatsch. Did this close cooperation remain essential for your whole work?
Yes, absolutely. When we started working together we were just like kids – naïve and full of energy. The core of my business grew organically out of our relationship. Working with someone like Heike who is honest, determined, highly talented, very intelligent and brave made me realise the kind of business I wanted to run.
Placing a strong emphasis on personal connections with your clients, on a close-partnered way of working opposes itself to conventional methods. Do you think this is the future of management?
It's a broad market and many approaches are valid. The only thing I can say for certain is that this approach works best for me. By working in a close partnership with my clients and really getting to understand them as individuals we can develop ourselves and our projects in a manner that is both organic and dynamic.
WASTED Management is working hard on realising its clients' dream, hopes and goals. But what about you–what are you dreaming of?
I've always been fascinated by meeting new and interesting people, cultures and places. I'd love to become more internationally involved.
When was the last time you gave back and what did you do?
For me it's the little things that count and our relationships to other people. Making kindness a habit is an ongoing process of mine. There is no final destination here but the journey is fun.
Do you have a vision to make this place a better one?
I'd like to think that by doing the right thing by myself and other people it makes a difference.
What is the most beautiful thing you ever saw?
Discovering a place that I felt and still feel deeply connected to.
What would you like to see more often?
The only thing I miss more than my friends from the Maldives is being there with them.
Sunrise or sunset–what do you prefer?
I love both, and the contrast.
Who is your personal hero?

I don't believe in putting someone in a position of a hero. But there are qualities I admire in people. I admire people who have the clarity of vision to see what's wrong in the world, the moral character to want to change it and the bravery to take action.
What´s your picture for IWISHUSUN?

The picture below. I had no idea where Roman (the photographer) was taking me. We drove through countless plastic tourist towns, cycled 8 km through a damp forest and my heart sank. Suddenly this beautiful ocean vista appeared before us taking me completely by surprise. "Beauty is truth, truth beauty." (John Keats)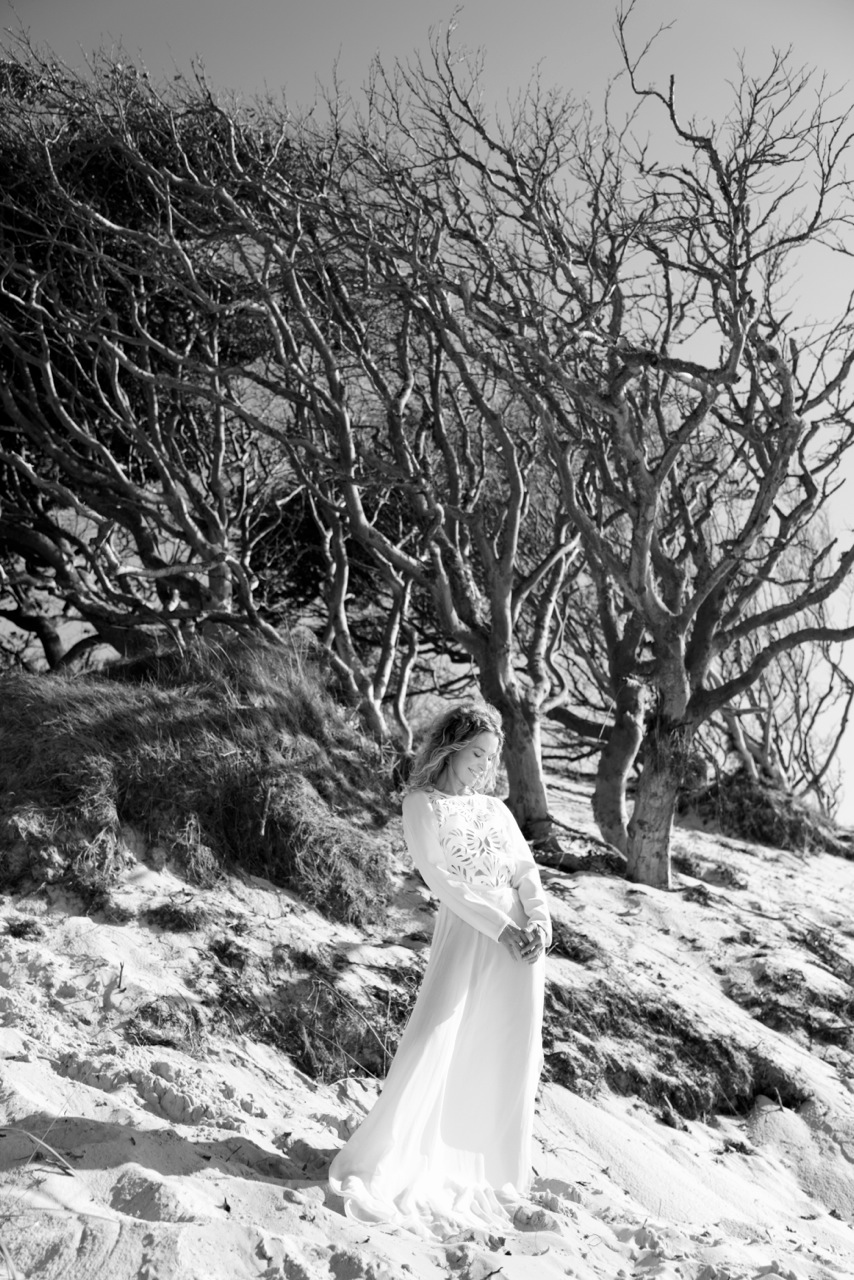 Photography: Roman Walczyna.