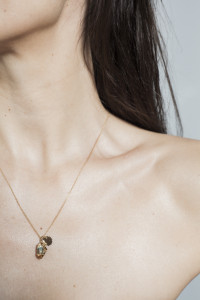 Sabrina Dehoff for IWISHUSUN Limited Edition Necklace
SUNLIGHT AROUND YOUR NECK
For our current collaboration, Berlin-based jewelry designer Sabrina Dehoff took our label's name and message to create a delicately designed strictly limited necklace for IWISHUSUN. Two pendants pay tribute to sunlight – on the filigree high quality gold-plated necklace a Swarovski crystal shimmers, underlaid with a warm whisky tone, along with a gold-plated sun pendant, beautifully illustrating the meaning of IWISHUSUN. With every necklace sold the battle against blindness continues, with 100% of the profits going to charity.
Thanks to the painstakingly hand-painted underlay of the setting, each Swarovski crystal shines in different nuances, and is thus unique. Every necklace is not just a one-off but also a shimmering token of commitment to our fellow humans, because with every Sabrina Dehoff x IWISHUSUN necklace sold, together with the non-profit organisation ORBIS International, an eye operation to remove cataracts is financed.
In this place we would like to express our heartfelt thanks to Sabrina Dehoff who has contributed 100% of her profits to the charity, enabling even more eye operations! Moreover, we are very happy to welcome her as a friend and supporter. You can read the entire interview here.
Classic and at the same time exuding the characteristic Sabrina Dehoff style, the charity necklace is the ideal present for Christmas – warm sunlight in the midst of the grey winter weather. As of now the limited edition necklace is available exclusively for 89 euros from our online shop.
About Sabrina Dehoff: Jewelry is so much more than mere decoration to Sabrina Dehoff and her eponymous label. She studied at the famous Royal College of Arts (RCA) in London and in 2006 she founded her label in Berlin. Her filigree works of art combine different materials and redefine feminine jewelry design, with classical elements combined with striking colours and playful details.
Photography: Jonas Lindström.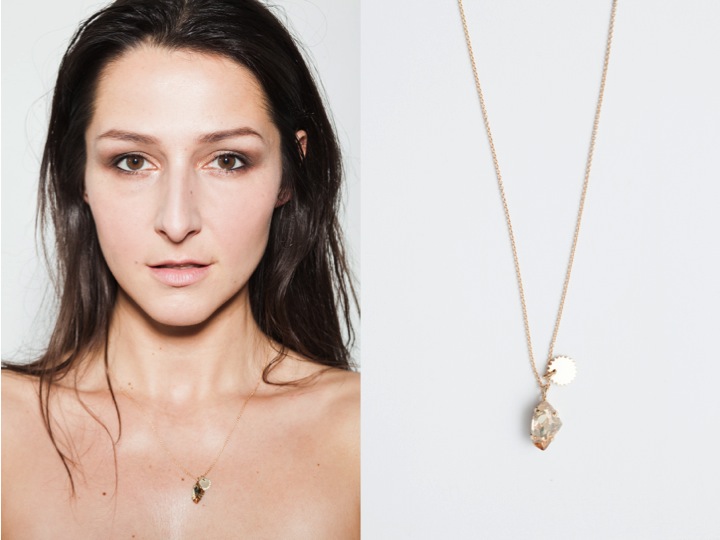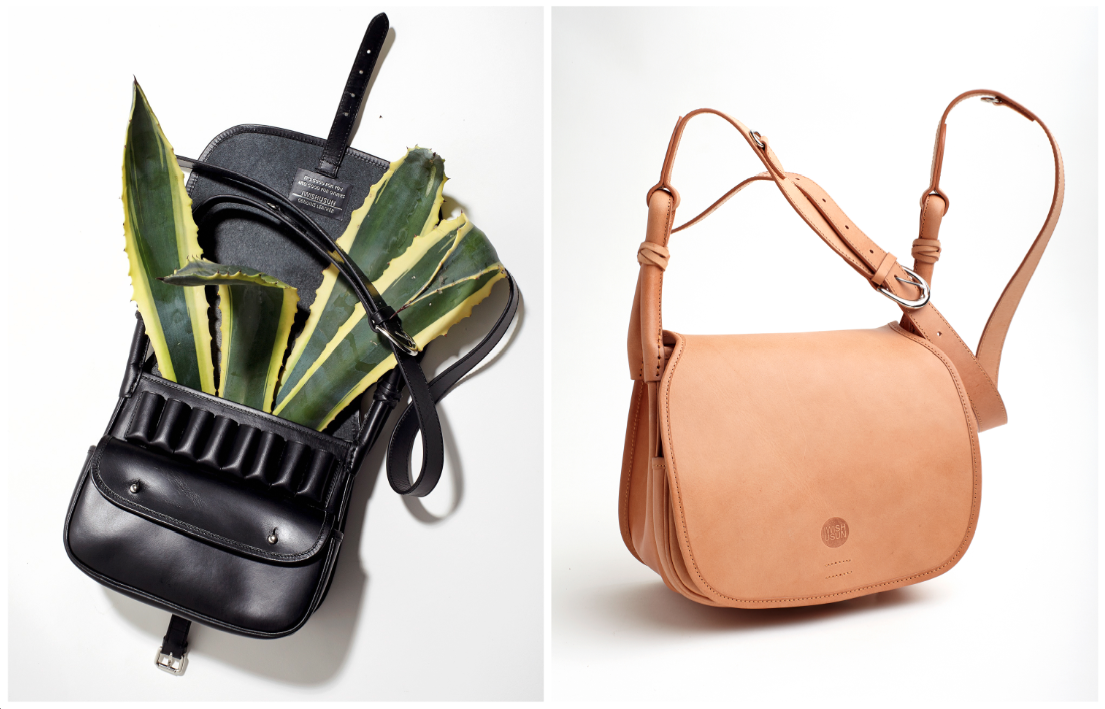 The IWISHUSUN Bag | A Rare Classic
The perfect jeans, the ideal T-shirt, the classic white shirt and the perfect bag – four items that everyone should call their own, because despite the speed at which our hearts and tastes fixate on new trends, our eyes quickly tire of them too. The optimum classics remain true to our bodies and our wardrobe, but it is exactly these ideal long-term companions that are so hard to find. With the latest product from IWISHUSUN the search for at least one of these items is now over: in the style of a traditional Breton hunting bag the IWHISHUSUN bag has a minimalist design but with lots of unusual details. Every bag sold continues the cooperation with the non-profit-organisation ORBIS International, with which we continue to finance cataract operations.
Made of high quality cowhide leather in black and natural leather the bag is available in these two colourways and is the perfect companion for any occasion. The many pockets and storage ensure that everything can be stowed away nicely. Whilst the IWISHUSUN logo is embossed into the strap in a small circle, the leather patch inside is a reminder of the good deed the buyer has done with the purchase of the new bag: "It's good for you and good for others".
After we had set ourselves the task of making simple, timeless products that are always of a high standard, starting with our IWISHUSUN down jackets and logo T-shirts, for sale in our online shop, the fight against blindness is being continued with our latest item to join the product range. 100% of the profit from the sale of each bag is passed on to the charity! The IWISHUSUN bag is now available in our online store.
Photos: Peter Langer.

SHINE ON! The perfect Tee
A T-shirt is to a designer what a canvas is to an artist: an outlet for creativity limited only by the edges of the material. Within these borders, this piece of cloth offers countless possibilities for motifs, an exhibition space for autonomous artwork, a proud signal of belonging to a particular subculture, a band following, or a brand. Unlike many other pieces of clothing, the T-shirt has become an icon. Nowadays one could hardly imagine life without these textile ambassadors.
With the IWISHUSUN textile ambassador, everyone can show their colours, because our logo has it's own T-shirt. The design is as simple and direct as the statement it makes: five coloured versions of the IWISHUSUN logo are eternalized on the back of the T-shirts in the first series. The other T-shirts have the IWISHUSUN logo in white lettering on a circle on the front of the tee.
True to the motto "Buy a T-Shirt, improve a child's sight", showing your colours in this way is rewarded with the financing of a pair of glasses for a school child in Bangladesh through the National Childhood Blindness Project (NCBP) from ORBIS. This project took up the battle against blindness in children in Bangladesh on 1 April 2013. The project aims to create a service network throughout Bangladesh by 2018 that will run via 10 health clinics and ensure that as many children as possible have access to appropriate preventative care and medical help.
Each T-shirt purchased is an important step towards realizing this project, so that in the next five years, what may now seem like a utopian dream could become a reality. The T-shirts are now available in our online store.
The photographer Thomas Schenk is responsible for the pictures of the IWISHUSUN T-shirts. With his down-to-earth attitude he says: "What I'm trying to do is keep it really simple, see who the girl is, see what the clothes are, and create a look that will maybe be a little more interesting". Since the late eighties this self-taught photographer has been working for renowned labels in fashion magazines such as Vogue, Harper's Bazaar, Purple and Details. You can find more information about Thomas Schenk and his work on the Shotview website.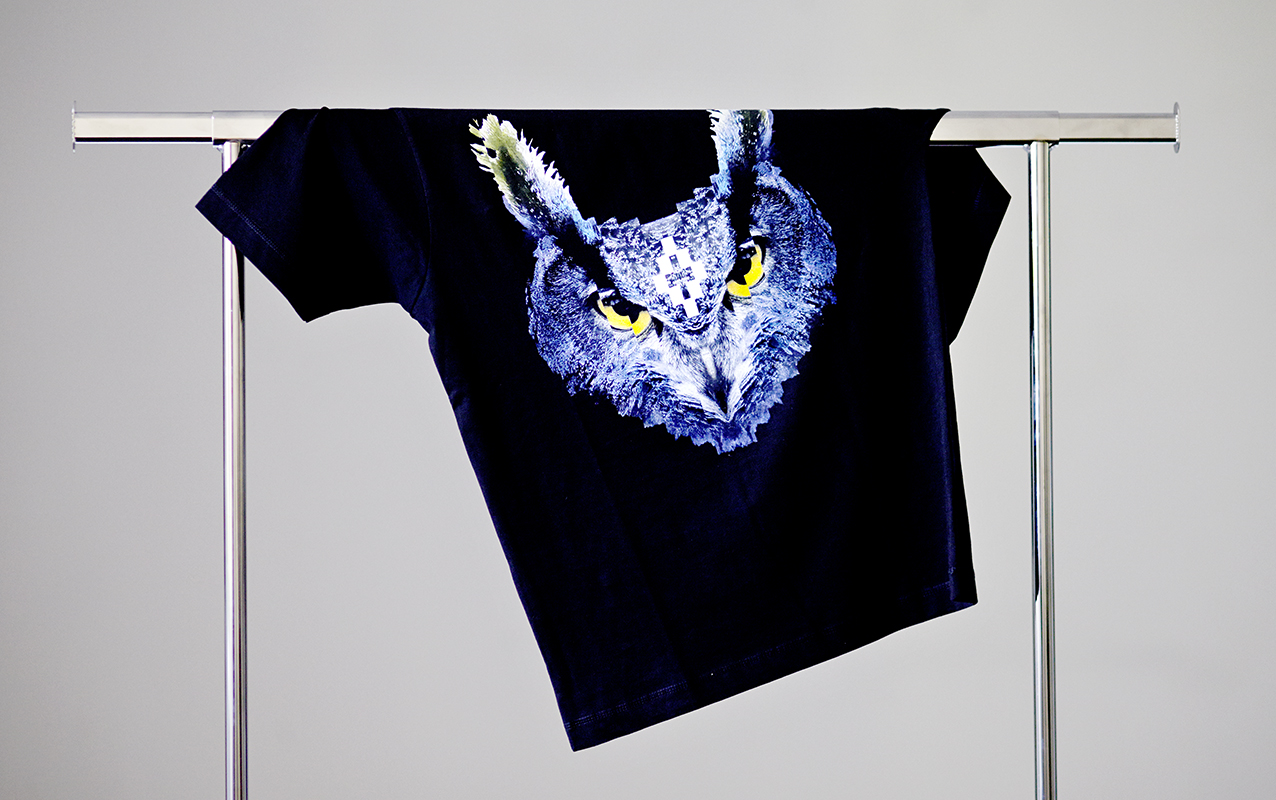 Marcelo Burlon for IWISHUSUN – Limited Edition T-Shirts
IWISHUSUN presents the first collaboration: we put together some limited edition T-shirts with Marcelo Burlon. The T-shirts with catchy owl prints certainly have the stuff to become rare collector's items, but the sale will also help us continue our successful cooperation with our partner ORBIS and keep on financing cataract eye operations in Dhaka, Bangladesh.
Marcelo Burlon is at home in many places: He works as a PR consultant, stylist, and editor; he is a DJ as well as being the man behind County of Milan, his line of unisex tees. His strong graphic prints have been guaranteeing his label's success and taking the fashion market by storm. Marcelo Burlon – County of Milan features prints of snakes, Argentinean bird feathers, and esoteric symbols with a nod to the rave and club culture where he feels at home. The symbols on the T-shirts represent Marcelo himself, his love for his native Patagonia, and also the lifestyle he has chosen to live. Taken from his Autumn/Winter collection 2013/14, Marcelo Burlon has designed an exclusive colourway for IWISHUSUN: a limited edition T-shirt that will be released on 3 July 2013 during Berlin Fashion Week.
The T-shirts are limited to 100 pieces and will be available from 4 July 2013 exclusively on iwishusun.net.
Pic: Peter Langer.
Susanne Kaufmann Suncream
We wish you sun – with all the benefits but without the risks involved in exposing yourself to its dangers unprotected. With our second product, Susanne Kaufmann suncream, the result of our first collaboration, we're not just thinking in terms of our name, but also your protection. If and when the sun decides to show its face, you'll be protected. And, for every suncream supplied to IWISHUSUN by Susanne Kaufmann, which we sell online, one pair of glasses will be donated to a schoolchild in Bangladesh as part of the National Childhood Blindness Project (NCBP).
The suncream, which is a new addition to Susanne Kaufmann's range, stands out from similar products because of its innovative sun protection system: the soothing dermatologically tested suncream is waterproof with an SPF 25 as well as UVA/UVB protection in compliance with EU guidelines, and it also regenerates and repairs UV-damaged skin cells with plant-based active ingredients Ectoine und Pentavitin. The cream provides your skin with intensive moisturising care and is suitable for all skin types, including children and those with sensitive skin.
Like all the products from the Susanne Kaufmann range, the suncream contains plant-based active ingredients from wild harvesting as well as organic ingredients, and doesn't contain chemical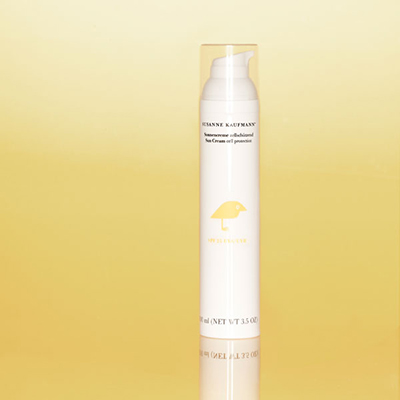 preservatives, colourings or aromatic compounds. The products are made up of fewer ingredients, which enhance and complement each other. Precious locally sourced oils, herbal extracts and floral essences are used as a medium instead of conventional petroleum-based products. The products are carefully processed in small batches, and then bottled in glass jars and bottles and labelled by hand. You can find out more about Susanne Kaufmann's organic products here.
 With every product sold online, IWISHUSUN funds a pair of glasses for a schoolchild in Bangladesh, as part of the National Childhood Blindness Project (NCBP) with ORBIS
ORBIS launched the fight against childhood blindness in Bangladesh on 1 April 2013 with its National Childhood Blindness Project (NCBP). A service network is planned which will include a total of 10 children's healthcare centres in the country, to be in place by 2018. This will ensure access to relevant prevention measures and medical care for the largest possible number of children. Every purchase of a Susanne Kaufmann suncream means we are one step closer towards the realisation of this project, which we hope will transform from dream to tangible reality within the next five years.
A classic
Autumn has already arrived and the winter is waiting impatiently in the wings. Just the right moment to grab one of our ultralight down jackets and head out into the winter, toasty warm.
The pleasantly soft matt high tech nylon provides natural protection in drizzle and snow. The down and feather mix with 90% down and 10% goose feathers ensure warmth and comfort with a weight of only 400 grams. Michelin man was yesterday. This jacket has a narrow straight unisex cut that can cope with just about anything you might drag out of
your wardrobe, from a thin blouse to a favourite woolly jumper. The women's jacket is slightly shorter and narrower in cut, because we know what makes the perfect fit.
All your small essentials can be stowed away comfortably in the two outer and one inner pocket, secured with zips.
The classic jacket comes in navy, grey, olive/brown and orange and is a true all-rounder that can be styled in a whole bunch of ways, whether you are dressed up and heading for a date or just going to the office or taking the dog for a walk. A fashion basic that's just as flexible as you are.
To add an extra kick the lining comes in a contrasting colour to the outer fabric, and the orange version has even been treated to a camouflage pattern.
And by the way, the small reflective IWISHUSUN logo on the sleeve is the perfect insignia to help you be recognised by like-minded people. Perhaps we should have a chat…
IWISHUSUN lays great store by offering our customers and supporters a high quality product for a fair price at the same time as supporting a good cause.