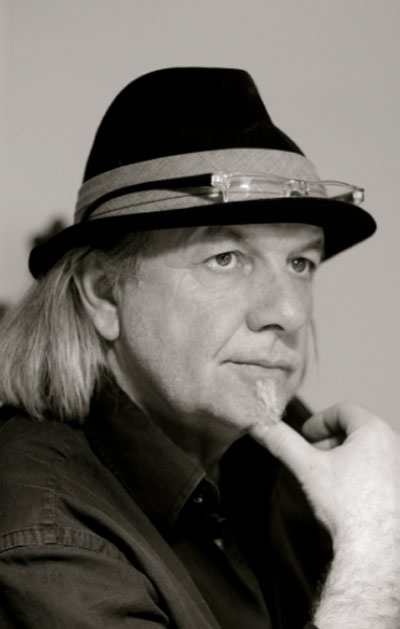 Pepe Danquart
Director – Berlin
Pepe received international recognition when he bagged an Oscar in 1994 for his short film "Schwarzfahrer". Since then he hasn't stopped filming and writing. Pepe has a big heart for underdogs and the socially outcast and has created many great documentaries, amongst them "Phoolan Devi – Rebellion of a Bandita", about the most famous Indian female bandit and her uncompromising life, and a documentary triptych about prostitution in three third world countries. He also produced Michael Glawogger's film "Workingman's Death" about hard labour and the system of modern slavery.
His latest two films are "Joschka und Herr Fischer" which portrays the political career of former foreign minister Joschka Fischer, and his newest movie "Run Boy Run", which will be completed this year and on general release for cinemas in January 2014. It tells the story of a boy who escapes the Warsaw Ghetto, subsequently spending years hiding in the woods to survive. The trailer alone is enough to move you to tears – highly emotional and beautifully filmed.
Which is the most important sense to you?
It's the ability to see.
Why?
Because I am a film-maker. All I have to express myself with is light and shadow. I use images to express my art, and of course, it needs to be seen to be appreciated.
As a creative person, what's your vision for your personal work?
If my films open people's eyes to subjects that are new to them: war, crime, injustice, outstanding biographies in our recent history – then I am happy. If my movies open people's eyes onto a better world – I am happy. If I am not boring to the audience – I am happy. To create things as I realised them – that's my vision.
What is the most beautiful thing you have ever seen?
The Swiss Alps on a clear day from Lake Zurich in the 'blue hour'(twilight). I had tears in my eyes.
When was the last time you gave back and what did you do?
In war time, I brought back little things for people who couldn't leave the place of war(ghetto), like a pair of shoes, a needle for a sewing machine, a picture of family members who had emigrated, and I gave them the feeling that they are not forgotten in the world and the hope that one day they will travel as well again.
Do you have a vision to make this a better place?
Yes, with every single movie I shoot I have this vision.
What's your picture for IWISHUSUN?
It feels warm (in the jacket) and in my soul as well – because with every jacket one more human being is able to see again – as you already know: my most important sense in life.
And if you want a real picture: a painting of a man at Lake Zurich in the 'blue hour' with the Swiss Alps in the background.