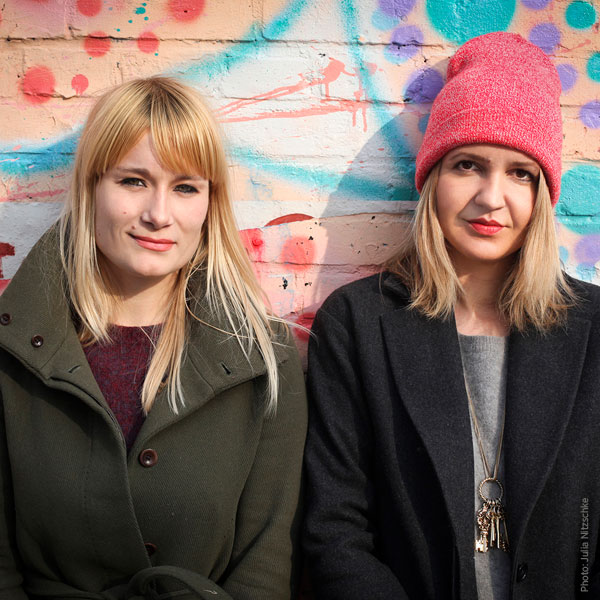 Vanessa Leyssner &
Fran Jahnke
Jewellery Designer – New York/ Berlin
Vanessa Leyssner and Fran Jahnke started their jewellery label INEEDMORERINGS in 2012. Their regular jobs as grafic designer (Vanessa) and film producer (Fran) kept them busy anyway but their passion to create jewellery pieces their wanted to wear themselves was big enough to cope with a lack of sleep and start into this new venture. The rings they create are all made out of vintage chains in silver and gold, comfortable to wear and add just the right sparkle to your daily life. Besides being a great match these two women have a great attitude towards the world we live in and keep pushing for their personal believes – be it in design, film or jewellery.
Whats the most important sense to you ?
SEEING (sense of sight).
Why?
Vanessa: That's the way it works for me. As soon that I think about something I am visualizing it, I think in pictures and I love it and can't imagine that's possible without seeing things in reality.
Fran: I'm addicted to watching people, things, nature. To look around me. To look closer. Sometimes to close. And again and again and again
As a creative person, what's your vision for your personal work?
Always stand 100% behind of what we do.
Never stop exploring
Never stop to be inspired.
Not always simple but simply always.
What is the most beautiful thing you ever saw?
Hard to say, but definitely nothing man-made. Beauty of nature is hard to beat.
When was the last time you gave back and what did you do?
We truly believe in what goes around comes around and that's how we give back.
Everyday. Always.
Do you have a vision to make this place a better one?
Always be loyal to yourself and to the people you love.
Always speak out loud with honesty, no matter how hard it is.
Always appreciate what you have and not taking things for granted.
Who is your personal hero?
Fran: Helene
Vanessa: my mom
Sunrise or sunset?
Sunset.