Deep in the Joshua Tree National Forest, in the deserts of California, artist Phillip K. Smith III revealed his beautiful architectural play of light, the so called "Lucid Stead" installation. An optical illusion, Phillip K. Smith III who received his Bachelor of Fine Arts and Bachelor of Architecture at the Rhode Island School of Design and often experiments with light and its reflections proves how simple it is to irritate our perception but also the transformational possibilities of light. Smith states, "Lucid Stead is about tapping into the quiet and the pace of change of the desert.  When you slow down and align yourself with the desert, the project begins to unfold before you.  It reveals that it is about light and shadow, reflected light, projected light, and change."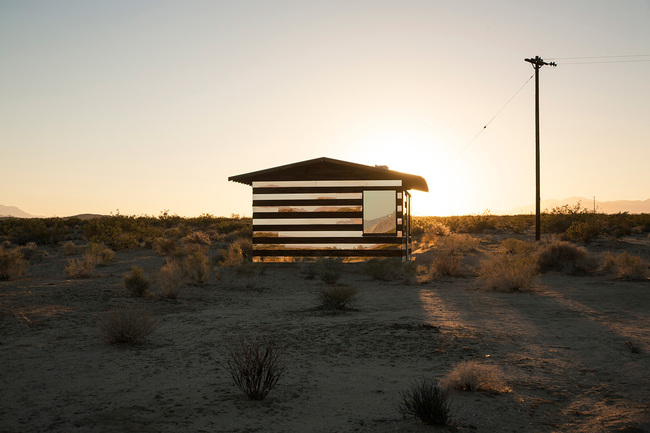 Composed of mirror, LED lighting, custom built electronic equipment and Arduino programming amalgamated with a preexisting structure, this architectural intervention seems alien in the context to the desert area and at the same time easily fit in it. As the sun moves the house's appearance changes and turns it into an almost spiritual experience.
Phillip K. Smith draws inspiration from the reductive logic of minimalism and the optic sensation of California's Light and Space movement. Learn more about his work and his solo exhibition of light works at royale projects which will open on November 29 2013 here.
All images via Archinect. Photo 1: Lucid Stead by Phillip K. Smith, III. Photo: Steve King. Photo 2: Lucid Stead by Phillip K. Smith, III. Photo: Lance Gerber.