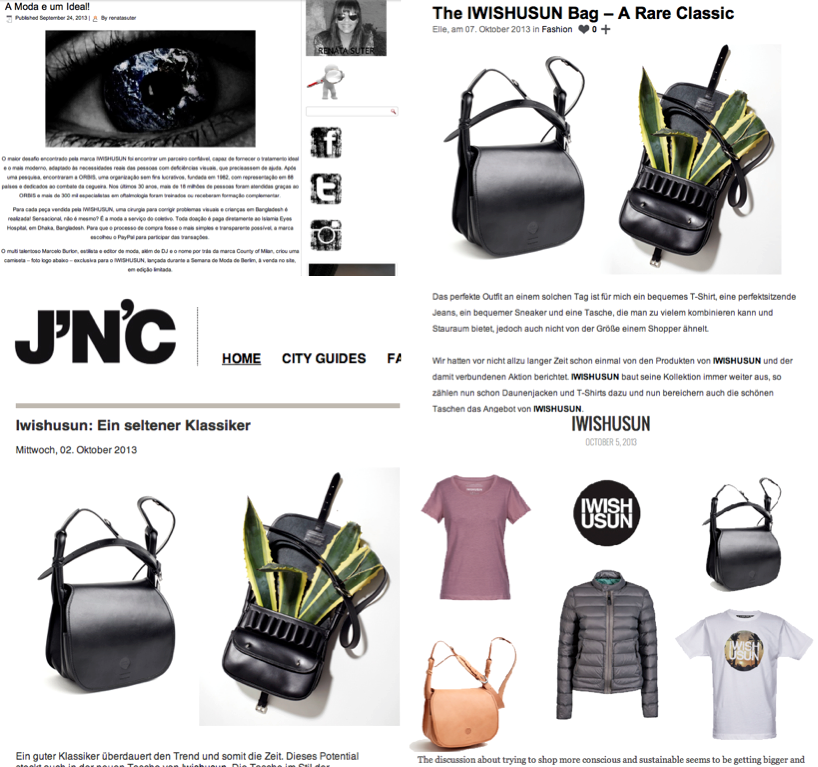 Once again we have updated out press section and won't keep the latest IWISHUSUN features from you. Below you can check out what Portuguese journalist Renata Suter as well as German online magazines and blogs, J'N'C, Coultique and heylilahey think about us and our product range that finance either a cataract operation or a pair of glasses for a schoolchild in Bangladesh with every item sold online: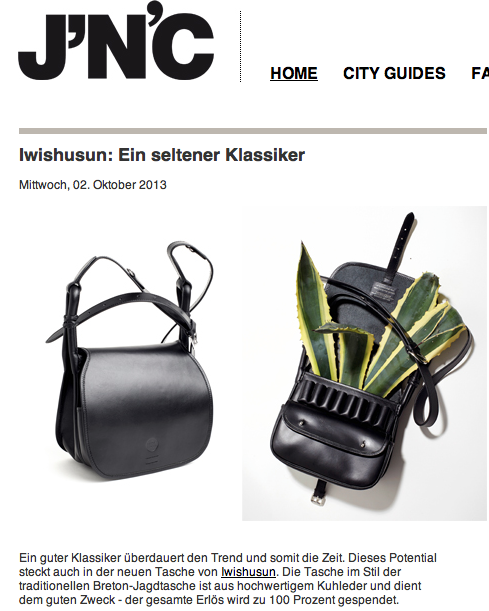 "Ein guter Klassiker überdauert den Trend und somit die Zeit. Dieses Potential steckt auch in der neuen Tasche von Iwishusun. Die Tasche im Stil der traditionellen Breton-Jagdtasche ist aus hochwertigem Kuhleder und dient dem guten Zweck – der gesamte Erlös wird zu 100 Prozent gespendet.
Zwar ist ihr Design sehr minimalistisch gehalten, steckt jedoch auch voll ungewöhnlicher Details. Das Iwishusun Logo ist auf dem Riemen geprägt und im Inneren der Tasche wird der Besitzer immer wieder daran erinnert: 'It's good for you and good for others.'" (read more…)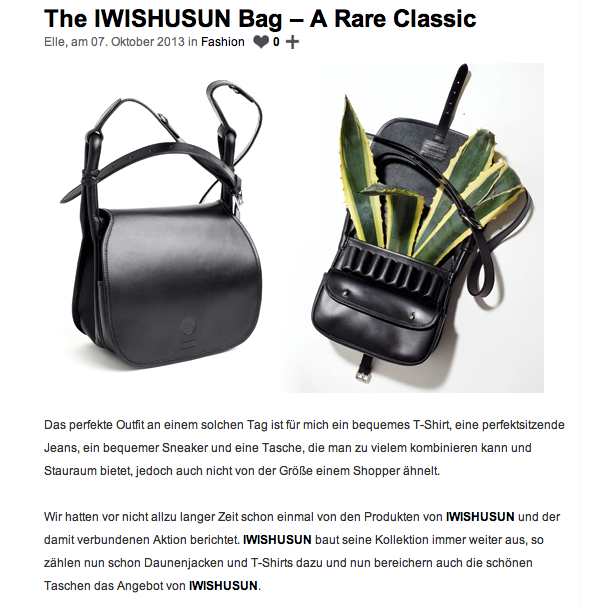 "Das perfekte Outfit an einem solchen Tag ist für mich ein bequemes T-Shirt, eine perfektsitzende Jeans, ein bequemer Sneaker und eine Tasche, die man zu vielem kombinieren kann und Stauraum bietet, jedoch auch nicht von der Größe einem Shopper ähnelt.
Wir hatten vor nicht allzu langer Zeit schon einmal von den Produkten von IWISHUSUN und der damit verbundenen Aktion berichtet. IWISHUSUN baut seine Kollektion immer weiter aus, so zählen nun schon Daunenjacken und T-Shirts dazu und nun bereichern auch die schönen Taschen das Angebot von IWISHUSUN." (read more…)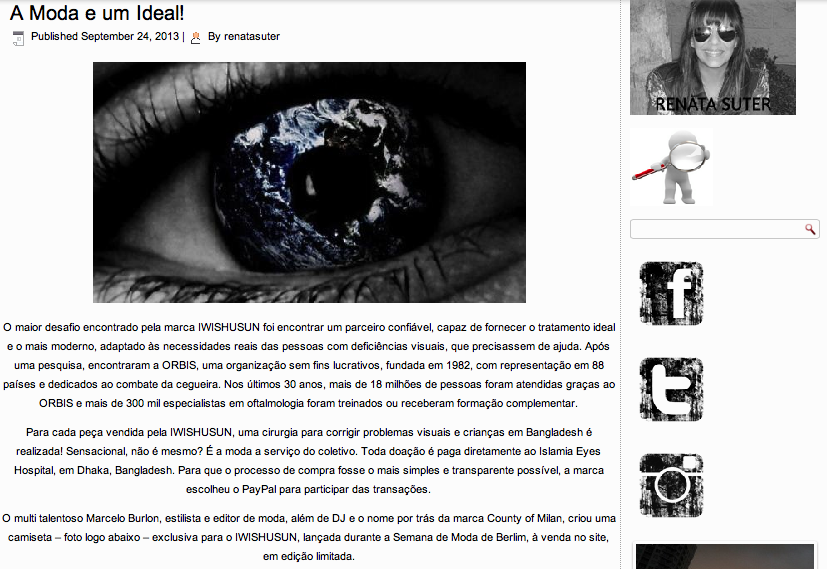 "O maior desafio encontrado pela marca IWISHUSUN foi encontrar um parceiro confiável, capaz de fornecer o tratamento ideal e o mais moderno, adaptado às necessidades reais das pessoas com deficiências visuais, que precisassem de ajuda. Após uma pesquisa, encontraram a ORBIS, uma organização sem fins lucrativos, fundada em 1982, com representação em 88 países e dedicados ao combate da cegueira. Nos últimos 30 anos, mais de 18 milhões de pessoas foram atendidas graças ao ORBIS e mais de 300 mil especialistas em oftalmologia foram treinados ou receberam formação complementar.
Para cada peça vendida pela IWISHUSUN, uma cirurgia para corrigir problemas visuais e crianças em Bangladesh é realizada! Sensacional, não é mesmo? É a moda a serviço do coletivo. Toda doação é paga diretamente ao Islamia Eyes Hospital, em Dhaka, Bangladesh. Para que o processo de compra fosse o mais simples e transparente possível, a marca escolheu o PayPal para participar das transações." (read more…)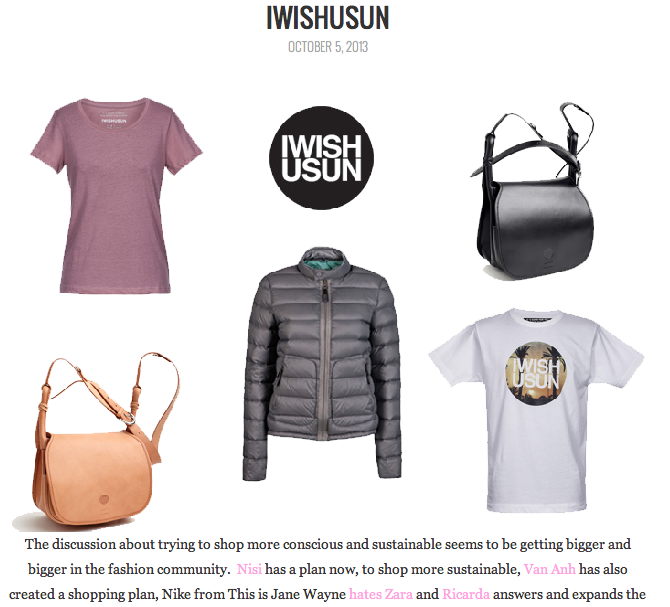 "The discussion about trying to shop more conscious and sustainable seems to be getting bigger and bigger in the fashion community.  Nisi has a plan now, to shop more sustainable, Van Anh has also created a shopping plan, Nike from This is Jane Wayne hates Zara and Ricarda answers and expands the discussion. But the question remains. How to look fashionable and at the same time do something good and shop sustainable? Exactly this concept is pursued by the creators of IWISHUSUN ("I wish you sun"). In cooperation with young creatives, designers, cosmetic companies, artists and other like-minded people they create high qualitative limited editions of products, clothes and accessories. With each item sold, a pair of glasses or even a whole eye surgery in Bangladesh is financed! 100% of the profit goes to charity! Click here to find out more about how the products are made." (read more…)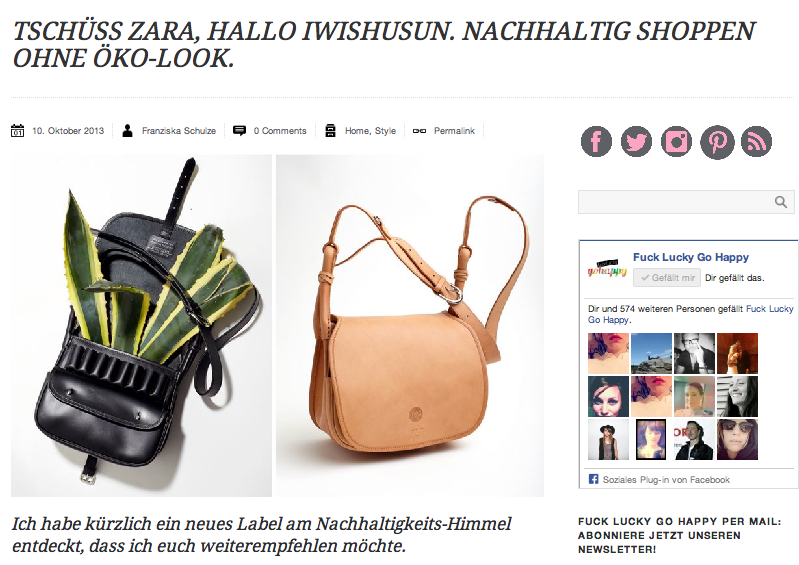 "Ich habe kürzlich ein neues Label am Nachhaltigkeits-Himmel entdeckt, dass ich euch weiterempfehlen möchte.
Dass Zara und die gesamte Inditex-Gruppe böse sind und man die unmenschlichen Fertigungsbedingungen nicht unterstützen sollte, wissen die meisten und ist inzwischen sogar bei den großen Modebloggern angekommen. Nike von This is Jane Wayne hat sich kürzlich öffentlich dazu bekannt, dass sie Zara hasst. Warum, kannst du hier nachlesen. Umso schöner, dass es inzwischen alternative Labels gibt, die nachhaltig sind, ohne Öko-Charme zu versprühen. Wie zum Beispiel  IWISHUSUN - ein Charity-Label, das sich für Blinde Menschen einsetzt und dabei verdammt gut aussieht." (read more…)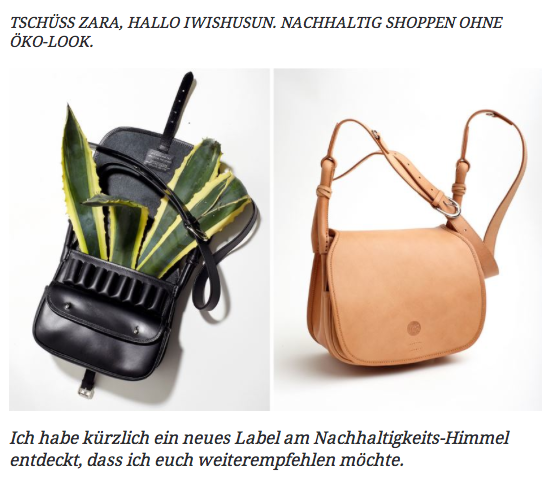 Thank you!!