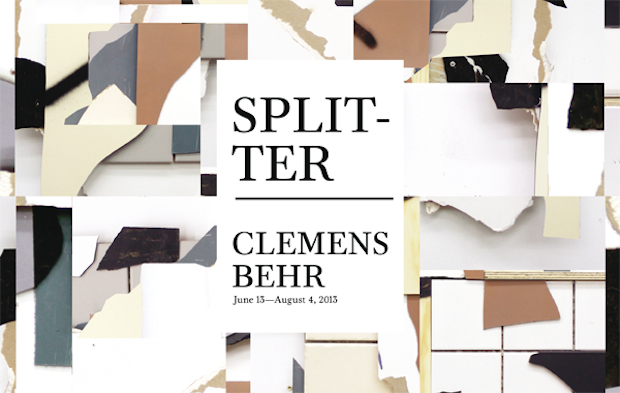 Young Berlin-based artist Clemens Behr's new installations "SPLITTER" are currently on display at Gestalten Space in Berlin. In "SPLITTER", Behr remains true to his concept of site-specific works that are characterized by the use of found material and remind us of collages which have become three-d. Deconstructing and rearranging, Clemens Behr's methods fluctuate between these extremes, but always manage to create new interesting compositions in the style of a contemporary Dadaism, which serve as reflections of his visual impressions of a given surrounding.
By playing with both destruction and construction, the artist raises questions about ephemerality and permanency, and in the same way, his work facilitates a dialogue between our perceptions in the second and third dimensions. Against this background, the importance of photography to Clemens Behr's work becomes even clearer—thanks to photography, his spatial, walk-in installations can become striking cubistic images after the original structures have been destroyed. Alongside his temporary site-specific interventions, "SPLITTER" also presents a number of durable objects.
Within the framework of his exhibition at Gestalten Space, the German publishing house present a video interview. In this Gestalten.tv interview, Clemens Behr reflects on his visions in spatial design, his own visual vocabulary, and his free-spirited, performance-like design process.
Don't miss "SPLITTER" at Gestalten Space, Sophie-Gips-Höfe, Sophienstraße 21, 10178 Berlin, until 4 August 2013.